Tregantle Military Railway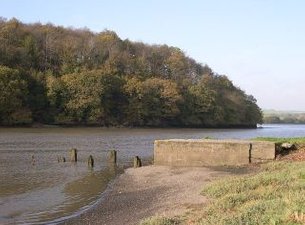 Wacker Quay today is a popular pic-nic area, the remains of the jetty can still be seen but the derelict rusty engine shed which for some time was used by Cornwall CC as a highways depot has recently been removed after standin for early 120 year.
No other railway has penetrated this area of SE Cornwall, though originally the Cornwall Railway's proposed route across the River Tamar was between Devonport and Torpoint, there to continue via Antony to St Germans. The Admiralty strongly opposed the plan and demanded that the company retreat farther upstream to where today stands Isambard Kingdom Brunel's famous masterpiece, The Royal Albert Bridge.
From an early undated map that recently came to light, it was noted that in addition to the original proposed main line, which was drawn thickly in red ink, two winding branches that converged on Antony, one from Tregantle via Scraedon and the other from Rame Head via Polhawn, Cawsand, Millbrook and St John.
It is interesting to note that, excluding the last two names, all were either military forts or gun emplacements. Whether these branch lines were to be con¬structed by the military or promoted as a subsidiary to the Cornwall Railway is not known.