Ferdinand Keast (Nandie) 1803 - 1891
TOWN SERGEANT OF SALTASH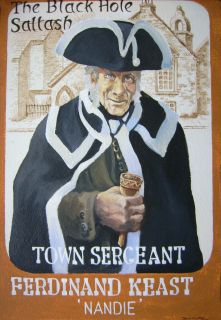 Ferdinand Keast passed away on New Year's day, 1891 at the age of 87. Ferdinand was town sergeant and verger of the Borough of Saltash,. Born in 1803, "Nandie" could just remember the local celebration of the jubilee of King George III in 1810, taking place at Shillingham, the home of Mr. James Buller, who, at that time, and for six years in succession, was Mayor of Saltash. Living at Forder, Keast, relates that being boys together, he once fought Admiral Tucker, and was sent for by Tucker's father and carpeted before him it Trematon Castle, but a satisfactory explanation that he was not the aggressor was given. Keast was a tailor by trade, and claimed to have first instructed the originator of a well-known Plymouth firm. On 21st September, 1846, Keast was enrolled town sergeant, carrying the offices of verger to the St. Nicholas Church, town crier, official bill poster, etc. and was senior sergeant when the borough held its full Water Tamar, or Silver Oar jurisdiction over Plymouth Sound, the Hamoaze, and up the rivers Tamar and Tavy, extending through twelve parishes—a distance of twenty miles. Bearing a silver oar as his authority, and armed with a substantial oak truncheon to support it. Keast was often called upon to exercise his prerogatives by arresting fugitives, criminals, etc. on board vessels, a duty which he performed with tact and courage. In the event of opposition or attack, he would follow up a rap with his truncheon by butting at the delinquent with his head, which was generally conclusive. As an example of his courage and confidence, it may be recorded that he, quite alone, took five mutineers from a ship in the Sound, and marched them all the way to Saltash lock-up The men had been confined in irons on the vessel, as the captain was afraid of them, but Keast's confidence cowed them. "Nandie" survived three wives, and latterly resided in the old and abandoned Townhall over the lock-up, or "Black Hole," In 1887 Keast was present at his second Royal jubilee celebration, and on being upset from a spring cart on the eventful day, remarked that at the Georgian jubilee celebration he also met with an accident from some stone throwing. In 1888 he was a picturesque figure, with his shovel hat and official cloak, and carrying the handsome silver borough mace, at the Armada Tercentenary, and again at the unveiling of the Armada Memorial, 1890, which was his last official appearance. In the previous August, when the Corporation viewed the water bounds, Keast's knowledge of all the points was very useful. At each boundary mark he made the proclamations with a preliminary "Oyez! Oyez !! Oyez !!!" in ancient style. The installation of the Mayor, in November, 1890, was the 46th Mayoral election he had officially attended.
With the famous oarswoman, Ann Glanville, the name of "Nandie" Keast will long be remembered in Saltash. His funeral was largely attended, almost every member of the Cor­poration being present, and acting as bearers from the Church to the grave.
Nandie Keast was quite a well-known character over a wide area in the West, and many of his original mannerisms and habits are even now well remembered. Two pennyworth of ruin was his favorite beverage, and he always declared, and on several occasions proved, that if he ventured three pennyworth, intoxication resulted. Unfortunately at his funeral the grave was a little too small and the coffin could not at once be lowered. The youths, who always went in awe of Nandie, at once rushed home and spread the report that Nandie, who was of a dogged nature, would not "go down" but kept bobbing up and asking for two pennyworth of rum!
He always cracked Brazil nuts with the back of his head against the doors, and so firmly did he believe that his head was of a harder nature than other people's, and in every respect a remarkable cranium he desired a doctor here to accept it after his demise and to that intent authorised him verbally to be sure and take it but: 19th century sentiment and regulations did not admit of such a bequest being acted upon.
After Nandie's death the old Guildhall, Town Hall, or Black Hole, became so dangerous that it was taken down. Nobody but Nandie and his prisoners had utilized it for years. After Nandie's death it, was never occupied.
P.E.B. Porter 1905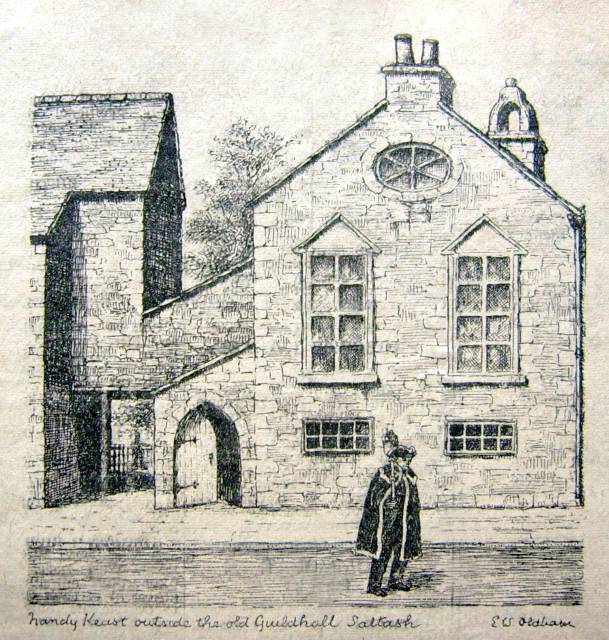 Old Guild Hall and Black Hole
The name Keast now lives on in Saltash with the newly refurbished passage way from Fore St. to the Co-op car park being named "Keast Mews"
But the last words must be left to 'Nandie Keast'
For if you're naughty
T'was well to know
The Black Hole 'ud open
And in you'd go!
Nandie Keast
Painting by David Whittley