Phoenix Project - rebuilding the guards van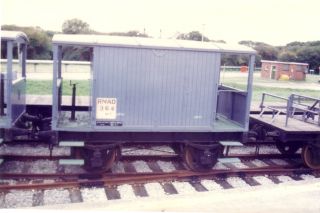 Coming up with the Goods

The tale of RNAD 20ton Goods Brake Van no. 364
Little is known about the origins of this vehicle other than the pedigree of its LMS axle boxes which indicate it may have been built to a pre-grouping early Midland Railway style possibly with one balcony end and an open saunterís platform at the other. It was most probably rebuilt at some stage in its life by the Admiralty. Its early pedigree is evidenced by the sectionalised design of the weighted ingot core blocks of "pig iron" in the under frame and the current reconstruction is probably just a further stage in its varied history.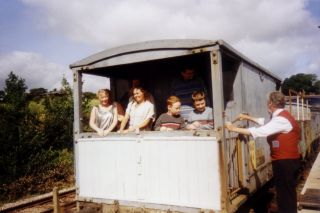 Two of these vans (identical to the best of our knowledge) were used on the Pridy's Hard system at Gosport and were photographed on rare special occasions when cameras were either allowed or smuggled in on visits as evidenced in 1960's & 70's. Following their being declared surplus upon closure of the internal rail system they appeared on a sealed bid tender in 1993 along with some 84 other mixed freight wagons. I bid at the time on the basis of either one of the brakes + any one box van from a selection of about 10. Duly successful with the acquisition of the brake and our steel under framed long wheelbase low roofed van our further 2 wooden under framed vans an LNWR and GWR/LNER pattern were subsequently acquired through Joey Hurst the scrap man from Hurstbourne who purchased about 50 of the RNAD stock.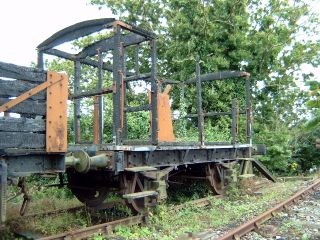 Following the disastrous arson in 2005 when our unrestored LNER sleeping carriage, the goods brake, the low roofed van and the open wagon were severely damaged by fire which resulted in the sale of the carriage under frame and bogies, slow progress has been made towards restoration of the goods vehicles as resources have allowed.
Using old seasoned timber which I had been fortunate to be able to salvage from the Devonport Dockyard the open wagon was rebuilt first and then this year with the availability of Jim the shipwright who had worked for us earlier on the carriage conversions, a snap decision was made to invest in reconstruction of the brake van. There was nothing salvageable on the superstructure following the fire except for ironwork rails and strapping which Dennis is currently refurbishing for repositioning.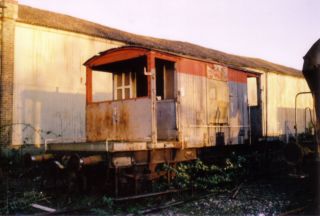 Following enquiries made I was fortunate enough after the fire to be allowed by EWS to strip two BR standard wheel-less guards brakes at Exeter St David's. These had both been built in 1963 at Ashford and were to yield end posts, rather nice veranda screens and doorways, top rails and roof frames. The remainder of the timbers including all side and roof cladding was only fit for the bonfire which we had on site! It was a condition incidentally of permission that we were to clear all superstructure leaving only steel and concrete block base plates. The stripping operation was achieved by a small crew of us including the zealous oxyacetylene cutter (Colin the Burgess of Christow fame) who travelled up to Exeter on a Saturday & Sunday. Having salvaged one mainframe the question then arose, how to utilise? The bases of the upright posts were very distressed and so the idea of supporting them with a fence post style mounting box was considered. Ian Minchell kindly agreed to prefabricate these in a heavy steel, which following galvanising formed the bases for the uprights. Dennis, Bruce & I removed the remaining charred timbers from 364 leaving just a bare weight boxed under frame.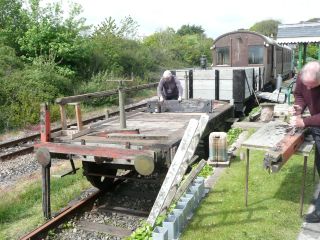 There was just enough former dockyard timber left from rebuilding of the open wagon to lay a new floor as a base from which to spring. In 2009 the "Phoenix" thus arose from the ashes (Anybody out there like to sponsor a cast nameplate(s) in recognition of the tireless efforts made by us in the restoration?) Meanwhile I had put in a bid to Jewsons for some hardwood decking timber of the Iho "teak family" which had been too expensive for them to sell for its intended purpose!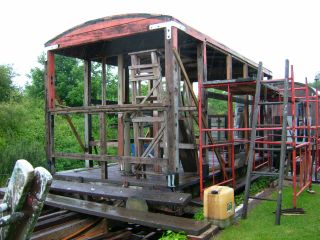 After several months of brinkmanship negotiations my bid was finally accepted and timber was dispatched to Henry Carr joinery in Tavistock for tongue & grooving. All credit is due to them for a most prompt and helpful service and their assistance with pricing and unexpected same day delivery. This cladding has fitted the bill admirably (pun intended!) and should outlast most of us with a surplus left over for cladding the gable top ends of the Kingsbridge stone "engine house" in due course.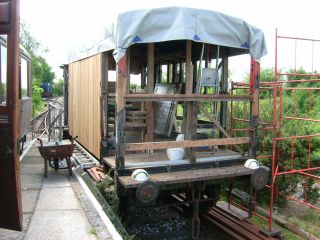 In contemplating rebuilding consideration was given to creating a replica of the Colonel Stephens design brakes he ordered for the PD&SWJR Callington Branch. However the need for diagonally braced exposed external timbers to create their characteristics with the inherent problem of rain trap corners was considered unwise. Other researches revealed that in 1930 the SR rebuilt at Ryde Works a guards brake which the IWCR had purchased as a one off from the Midland in 1911. Our reconstructed design is loosely based upon this, so there is a prototype for everything!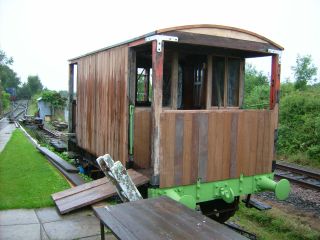 Opportunity has also been taken to learn from design failures, mistakes & omissions of the past in that we have tried to ensure all former weakspots for water ingress have been eliminated or minimised. It is hoped that Ian Pethers will in due course sign-right the "SR" & numbering details for us as 56037 so we will have at least one item of SR stock in our collection! It is interesting to reflect also that had the original Pickering built PD&SWJR brakes nos. 54/55 survived in SR service beyond 1930 it is likely they would have been repaired/rebuilt with external vertical cladding in the style of 56037 to preserve their diagonal timber framing. Their SR numbers from 1923 were recorded as 56042/3 (so close) though no photos of the era have been seen. The brake van has been insulated with industrial roofing polyurethane foam internally lined and veneered and fitted with a spare pair of first class BRMk1 seat units. Lockers from compartment side screens have been added and with electric light and heating the guards brake will be available as accommodation for a couple of teenagers in conjunction with letting of the double bedded self catering carriage suite alongside. (Parents take note this "den" is available for your offspring!)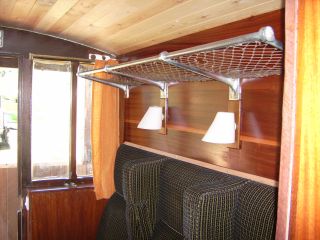 The van will of course be available for jaunts up and down the sidings. Initial comments from visitors have been to the effect that they did not realise guards had such cushy accommodation! So there we have it, a tale of the resurrection of "Phoenix" guards brake van no 56037 Long may she remain with us in the service of the Tamar Belle at Bere Ferrers Station