Cornwall Railway Timetable Sep. 1959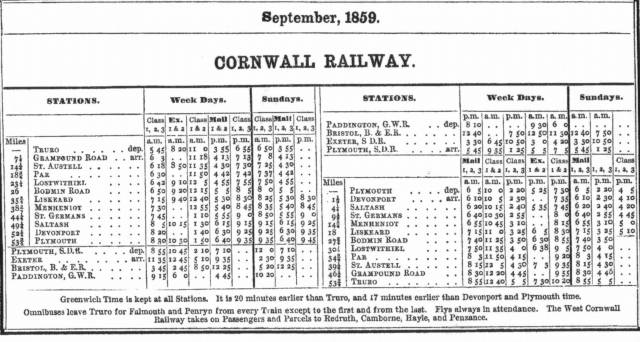 From a simple timetable it is surprising how much information can be extracted.
Weekdays there are only five passenger trains each way.
All these trains are long distance; it wasn't until many years later that the railway started to cater for commuter and local traffic.
Of the five trains, third class passengers were only allowed on two of them of which only the 5.45am from Truro and the 8.10am from Paddington covered the full route.
There was one express train in each direction, 1st & 2nd class only. To travel on this train, passengers had to pay a supplement.
All passengers travelling to West Cornwall i.e. Redruth, Camborne, Hayle and Penzance had to change trains at Truro to a 'West Cornwall Railway' train. At this time the WCR was standard gauge (4ft 8˝ins), it was not converted to dual gauge until 19th October 1866
The railways ran to Greenwich time which was 20 minutes earlier than Truro time and 17 minutes earlier than Devonport and Plymouth time.
The government imposed rules on the railways:-
The maximum fair for ordinary class (3rd) could not exceed 1d per mile.
The maximum fair for other classes (2nd and 1st) could not exceed 3d per mile.
At least one train per day on week days must have facilities for 3rd class passengers.
All trains on Sundays must have facilities for the conveyance of 3rd class passengers.
All trains must average at least 12 m.p.h. over the entire distance including stops.
Carriages should be provided with seats and protection from the weather unless exempted by the B.of T.
In reality most of the larger railway companies charged the same rate.
| | |
| --- | --- |
| Type of ticket | d |
| First class ordinary single, per mile | 2.1 |
| Second class ordinary single, per mile | 1.575 |
| Third class ordinary single, per mile | 1 |
| First class ordinary return | 3.63 |
| Second class ordinary return | 2.73 |
| First class express single | 2.625 |
| Second class express single | 1.837 |
| First class express return | 4.53 |
| Second class express return | 3.18 |
From the above it can be seen that third class passengers were not exactly encouraged to travel.
Most railway companies issued concession tickets for certain groups of traveller's i.e.
Soldiers, Marines, Naval personnel, Police officers, Government Emigrants, shipwrecked mariners, grooms (if they travelled in the horse box), excursions, pic-nic or pleasure parties, tourists, traders, season tickets, corpses and groups of ten or more.
Like today's budget airlines the railways charged extra for luggage, perambulators, pets, foot warmers (1st and 2nd class passengers only), and for some unknown reason they list an extra charge for sofa's, harps and pianos.
Some railways charged a booking fee of 2d, 3rd class, 6d, second class and 1/- 1st class.