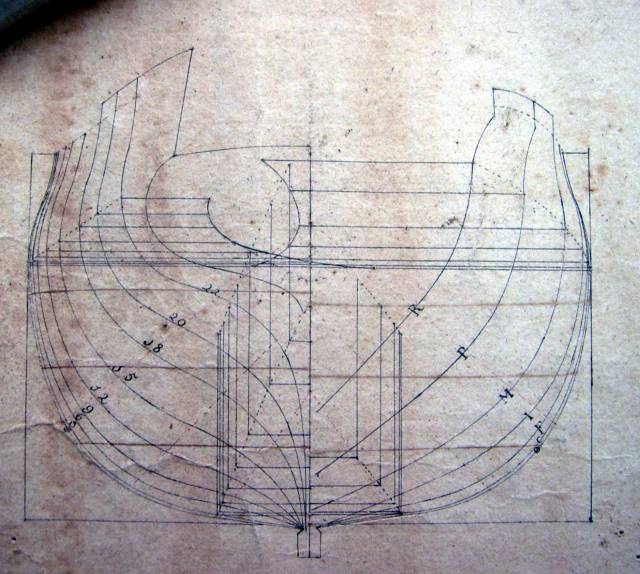 The evolution of the Royal Naval Dockyard at Devonport benefitted Saltash whenthe Saltash shipbuilder 'Snook' was instructed to build two 16 gun sloops for the Admiralty. However Snook proved an unreliable contractor and was paid off bythe Admiralty and the job was handed over to Mr. Chitty.
Alderney (spelt Aldernay on the drawings) and Tamar were both of 230 tons and 88ft 4ins in length.
Alderney was commissioned in 1757 and Tamar a year later.
Alderney
1757 Cdr. Thomas BAILLIE. Promoted from 2nd lieutenant, of Deptford
1759 Cdr. John PEIGHIN, with the squadron under Commodore William BOYS which was employed blockading Dunkirk to prevent the expedition planned under Francois Thurot,
1762 Cdr. Richard BRUDUELL, in June that year she was at Woolwich, ready to proceed to Galleon's Reach to take in her guns.
176? Cdr. F. RICHARDS, East Indies. With the fleet under Rear Admiral Samuel CORNISH,
1782 Capt. J. GLASFORD, protecting British shipping in the North Sea. The ship was sold by the Navy in 1783.
1764 Cdr. Patrick MOUAT.
TAMAR accompanied Capt. Hon. John BYRON in DOLPHIN on a circumnavigation of the globe, sailing on 21 June 1764 during which Capt. BYRON took possession of a group of islands in the name of George III in January 1765 and called them the Falkland Is. The circumnavigation took two years with the ships returning in May 1766
1767 Capt. Anthony HUNT, accompanied by FAVOURITE, and SWIFT, were sent out again to the Falkland Islands to establish Britain's claim to their sovereignty

James MONTAGUE took command of the ship on 11 Sept. 1773 after being promoted by his father (Admiral John MONTAGU) first to Lt. and then Commander.
The ship was renamed Pluto in 1777 and converted to a fire-ship.
As PLUTO, under the command of Cdr. James BRADBURY she was with the British fleet under Admiral KEPPEL seeing action with the French off Ushant on 27 July 1778 (the other fire-ship present was VULCAN).
Tamar was captured by the French on 30 November 1780.
(A fire ship was a ship with a crew that were specifically trained and armed to use their guns with the specific intention of killing and maiming the crew of an enemy ship, as opposed to the usual aim of disabling a ship)