Tamarside Archaeological Survey
Archaeology News November 2014
In late October Les and I helped to organise and run a Field walking Day with the Tamar Valley AONB at Tinnel, a location that some may remember as it was the site of our very first project. The day was intended as an introduction to Archaeology and was very quickly fully subscribed.
Figure 1: The wet stone or loom weight
The area we chose to cover was on the site of an old row of cottages on the opposite side of the lane to the area we covered with Sally-Anne. The intention was that we would find plenty of material discarded by the cottage residents, and as we moved beyond the boundaries of the cottage, Dock Dung! On the day, having resolved the problem of laying out a grid using three different methods, a wide range of material was collected and bagged and the following week-end those who had taken part gathered at the AONB Centre at Gunnislake to wash and sort their finds and some surprising results followed.
Figure 2: Medieval or Roman

Among a large collection of post-medieval pottery we found a lead naval military figure and the expected collection of willow pattern and stoneware pottery. In addition we found what appears to be early and later medieval pottery, and a collection of clay pipe stems and bowls. There would also appear to be some Iron Age and Bronze Age pottery and flint blades and a whetstone or loom weight that has fractured across what appears to be a man-made hole. Following the washing session an initial appraisal and review was carried out by Ursula Davey.

However, the most exciting piece is a pottery shard that may have formed part of a mortarium, and has been causing some discussion as to whether it may be medieval or Roman in origin. Based on a photograph Cornwall's Finds Officer believes it to be medieval while others believe it may be Roman and we are currently awaiting the opportunity to have it looked at by a ceramics expert at County Hall.

Archaeology News Update July 2014

The archaeology group have a number of field visits in the pipeline for which dates have to be confirmed. Locally we have been setting out the basics for the survey work at Hall Rings near Pelynt. At the moment it is necessary to carry out most of this work at week-ends but I hope to be able to carry out some mid-week work in both geophysing and surveying once we have a grid plan in place.

One event for your diaries which is a bit different than normal will be on the 18th August. The event at Wacker Quay, Antony, is being sponsored by the Tamar Valley AONB and we will be working with them and HES to survey the remains of the incline plane railway and turntable complex, clearing foliage around these features in order that we can protect and stabilize them where required. This work day will be open to members of the public. We will need help managing the public volunteers and leading survey groups. All equipment will be provided on-site. We will be surveying using the new theodolite software and computer and will also have safety lines available to gain access to some of the steeper areas. Times have yet to be finalised and I will circulate full details by e-mail, tea/coffee and possibly burgers etc will be provided for those taking part.

Three of us recently did a survey near Mevagissey as part of the CAS Roman Sites Project - the results we have are interesting but inconclusive. This project will continue throughout the summer but due to crops and harvesting will take place mainly at short notice on sites spread across Cornwall.

We are also currently in the process of up-dating are software and software licences for the theodolite. In the past this has proved a troublesome area but we are hopeful that this will improve with updated versions of the control software and a change from Auto-Cad Lite to BricsCad. As the original licences purchased by Sally had expired this was a necessary expense. Theolt, the company that own the rights to the control software, have kindly agreed that we can up-date to the most recent version and include their forthcoming release of a Contouring and Modelling package for £400. This is considerably less than normal. BricsCad is now recognised as a competitive package to the full AutoCad package and we are purchasing their professional package for £570, which is less than Autocad lite and is unrestricted, allowing us to add extra programmes developed by Universities and Archaeology Teams that we can obtain free as open access. I am also looking at the possible purchase of a new up-to-date Leica disto meter. The original unit was purchased by Sally at the suggestion of HES to use in conjunction with the theodolite, but was never really suitable in the field or designed for outdoor work. The latest versions are now designed to work outdoors over a distance of 200 metres and can be sited from the main screen like a camera with a zoom lens rather than a pin hole on the side. They will, with the right software and Bluetooth version, output drawings and photos with dimensions to a mobile phone or tablet and can also be used to draw elevations of buildings to BricsCad. If we can get this to work across the board then we will look at running some training so that people can borrow the unit to use for simple surveys etc.

Pete Nicholas

One of our members, who is studying for her degree, asked for help to do a geophysical survey of the area around the Rillaton Bronze Age Barrow on Bodmin Moor near Minions. She is doing a research project and had received the necessary permits. However after a few days the field work had to be abandoned because of the atrocious weather. We will attempt to complete this task when the ground is not frozen.

A group of us investigated some ridges in a field at Carvoda north of Callington. The site is on high ground looking across a valley with the Callington to Launceston road running along it. The results of our geophysical survey show a rectangular feature with at least one ditch and a gap in one side which presumably is an entrance. Without any surface finds which might give us some idea of date we have no idea what the feature is. Is it prehistoric? Is it a sheepfold? Was there a building? Or could it possibly be a Civil War emplacement? We hope to go back to investigate further.

Recently on a very wet Sunday a group of archaeology students from Cornwall College- Truro were taken to a farm to attempt to locate the position of a lost standing stone using our magnetometer. To their delight they did locate the hole in which it formerly stood and even showed that the standing stone had been positioned on a Bronze Age Round Barrow which no one knew was there. Presumably the barrow had been ploughed out at some time in the past. Cornwall has more visible Bronze Age monuments than any other county but the students must have been pleased to discover one that was previously unknown.

If you would like to join the discoverers do let us know as you will be most welcome. Remember no previous knowledge is required. We are all amateurs who are still learning.

The Splendour Falls on Castle Walls

Last summer we were asked by the Caradon Hill Project to help with finding what might remain of Liskeard Castle, a circular structure built in the 13th century by Earl Richard, that is known to have stood within Castle Park at Liskeard. The best known description of the castle is in the Parliamentary Survey of the lands of the Duchy of Cornwall in 1649 where it is described as being 'in decay, the materials about it being not worth taking down'. The report continues stating that the area within the walls was 96 perches. Within the walls at that time was contained a School House also used as the meeting house for the manorial court. The boundaries given clearly locate the Castle at the South End of the Park, standing above the town. Within this area today stands the town war memorial and a bungalow that was formerly the Town Police Station and is believed to mark the site of the original School House. Much of this area is tarmac and concrete but there are areas laid to grass with planted shrubs and trees. However, we were advised that a number of lighting cables had been laid across these areas, shown below as Castle Hill Court. Not ideal then for most of our kit. My only knowledge of the site was from what I was told by a builder who was visiting the Time Team Site at Looe some years back, that when working in the back garden of a cottage beside Castle Park he had found an old wall and some buried swords and the latter had been thrown away by the Cottage tenant.

Our visit last summer was marked by high temperatures and sunshine to such a degree that Cornwall Council Officers sent out for extra water for those involved in various aspects of fieldwork. We started by putting in a number of small grids on the grassed areas but found little of use. Our greatest area of response was on what we were told the line of a cable and that seemed to be reflected in the response shown below.

Figure 1. Plot CM2 showing high magnetic response on right hand side thought to be a lighting cable trench.
Later in the year an opportunity arose to hire a Ground Penetrating Radar System and there being sufficient funding left in the Caradon Project Pot we arranged to hire it during the first week of March and hopefully look again at the Castle and other sites. GPR as it is known is capable of building a 3 day picture of what is beneath the ground and providing slices of different depths and also profiles. On the first Monday of March, only a week ago, 5 of us and an instructor arrived at Castle Park, by contrast to our previous visit it was freezing, blowing a gale and pouring rain, sleet and hail! For four and a bit hours we persevered in learning how to get the kit up and running and use it in the field and then attempted to review the results in the back of a van that one of the CAS team has been converting for use on such expeditions even the van was not that warm and we adjourned to Morrison's Cafe to download and process the results over a supply of hot chocolate and coffee. Our first day's work produced little in the way of a castle!
The following day was spent at St Germans Church but on the Wednesday Les and I returned to Castle Park to further investigate the Castle in doing so we realised that although the lighting cables in most of the Park did run from lamp to lamp, in the lower park the cable had been laid along a path edge so as to negotiate a wall, this suggested that what was thought to be a cable in the original survey was incorrect. We therefore laid out another grid over that area and put the GPR across it. The resultant plot revealed a large solid block of material possibly in two parts at between 1 and 2 meters depth. Below is an initial copy of the plot that is effectively a series of maps at different levels within the ground.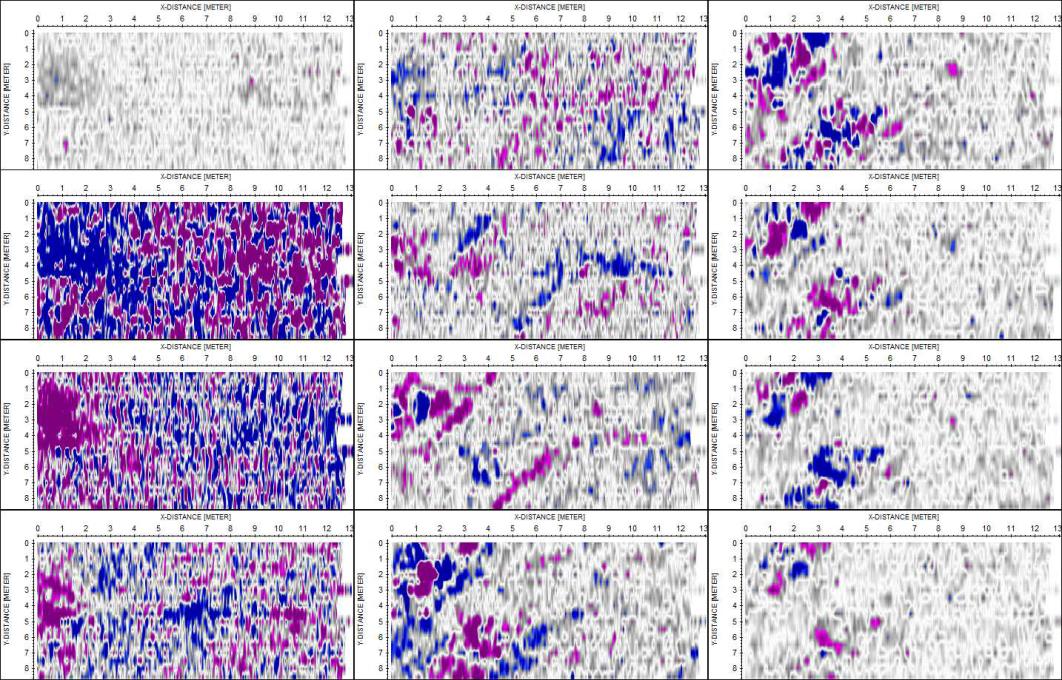 Figure 2: Ground Slices Liskeard Castle.
The first column shows mainly the top soil but in columns 2 and 3 can be seen what may be the remnants of a wall about 2-3m meters thick with rubble spread. This can also be seen in profile or section below.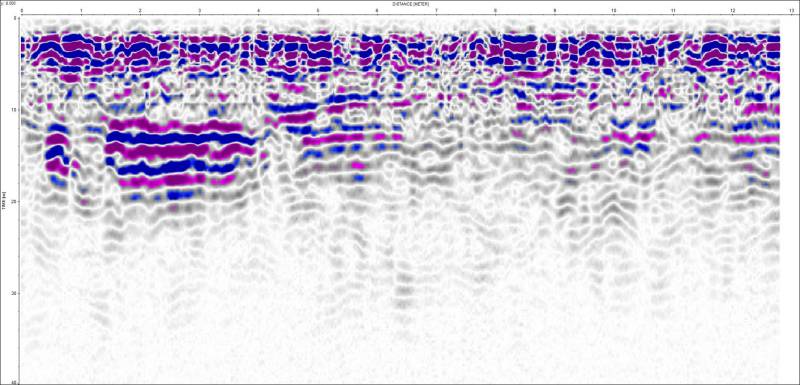 Figure 3: Section showing a 'very large lump' of material at about 1 metre below the surface.
The section indicates the presence of material possibly the remnants of a robbed out wall beneath the top surface plough soil. The feature appear to be about 3 to 4 metres in width and half a metre in depth. We have now partly been able to put this together with our earlier results and together with some additional information believe we have probably found part of the castle wall. The drawing below shows our original results as located within the park, to the side is a map slice from the GPR results and both are similar. Added to the drawing is a yellow dotted circle the radius of which is 28 metres which corresponds fairly accurately to the radius required for an area of 96 square perches. The wall line also runs through some of the adjacent cottages and so it would appear that we have probably now found what remains of part of the castle wall and the site of the castle.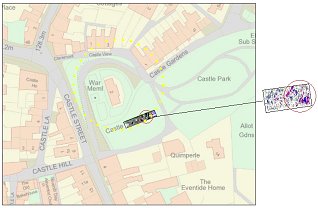 Figure 4: The plots and map.